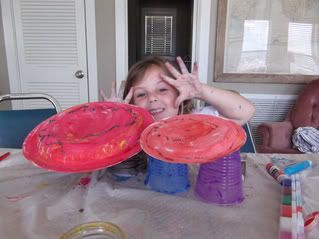 #
Chess and Chinese checkers were the quiet times...
Made gumbo one day and that was an experience for sure.
I will appreciate good gumbo more now.
I made shrimp creole and red beans and rice,
then there was lots of fresh silver queen/King corn that the kids all loved.
Tomato sandwich's of course and besides eating we loved the beach.
Had a great sand bar for several days and we love those because you
can actually sit in the water pools and read etc.
Front Row Seats!
My SIL helped the grandsons catch fish and sharks. Yikes!
I will hope to get some pics of the sharks soon
but I did take this one myself of a small red fish.
I hate my new camera because I can't see what I am taking a picture of
in the sun. Just have to guess.
How wonderful that my grandchildren did not see their grandmother
with a cigarette
in her hand at all times.
We did have a smoking section on the deck for those that smoke.
I have to remember that I smoked for 46 years so I never said a word.
I love not smoking the more time goes on.
So will you,,, if you are still in question.
I promise you this!