I've been thinking about and feeling unsteady over what I wrote in Stacia's journal this morning. When I looked up "envious" on Dictionary.com just now—to make sure I said what I meant to say—this was top of the page:
Feeling, expressing, or characterized by envy: "At times he regarded the wounded soldiers in an envious way.... He wished that he, too, had a wound, a red badge of courage" (Stephen Crane).
Wow.
Okay, so I am not the only one in the world who's ever, at times, envied something painful and bad for me. Not an exact analogy but the symbolism fits.
I think it is time for me to bring some things out in the open and kind of meander around in my head for a bit. Feeling grungy up there.
I miss smoking. I loved smoking most of the time. I loved the feelings I had. Seems this new life I am attempting to carve out for myself doesn't fit well yet and so it makes me miss what was familiar and comforting. I've been asking myself today why am I feeling the emptiness so strongly, why the envy of Stacia's cig, what is going on? I've not been very good to myself last week or so—not treated myself—and I think I'm feeling deprived. Poor lil me lol
See, I know enough by now to realize that, even as I am having all these junkie thoughts, the soul recognizes truth and right. Of course I am feeling deprived and out of sorts if I am not taking care of my needs. Well, not to get all psycho-babbly here but I think I've hit the nail on head. So I am at work with a hot cup of rooibos tea and doing this therapeutic writing and thinking.
I stopped smoking for the 'wrong' reasons….stopped mainly because I was going to be spending intimate time with a new non-smoking friend I had never met. Once I got into the quit, I realized it was a full time job and so I've not even felt comfortable enough to travel or be with new folk or really do much of anything except h a n g o n t i g h t
So journeying on, I am. Swimming with the current mostly but at times planting my feet like iron. Dizzy and ditzy half the time—this is one of my fav cartoons and it speaks volumes.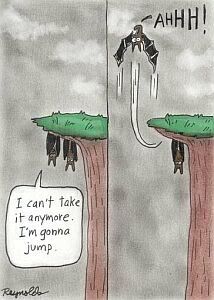 lololol that's meeeeeeeeeeeeeeee :)

Oh I'm so glad I am a part of this group....we ROCKKK!


"When you quit, your forevers will come to you."